Ben's blog
This is a record of the fishing adventures of Ben Eveling, angler, raconteur and twit.
Friday, 18 March 2011
Now that's a proper end to the season
Mid-march means pollack, cod and bass if you're lucky. Unless you're stuck on land, then it means you'd better get some river fishing in before the end of the coarse season.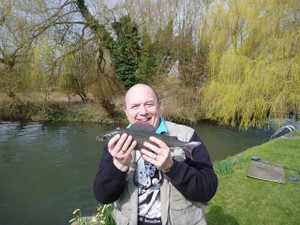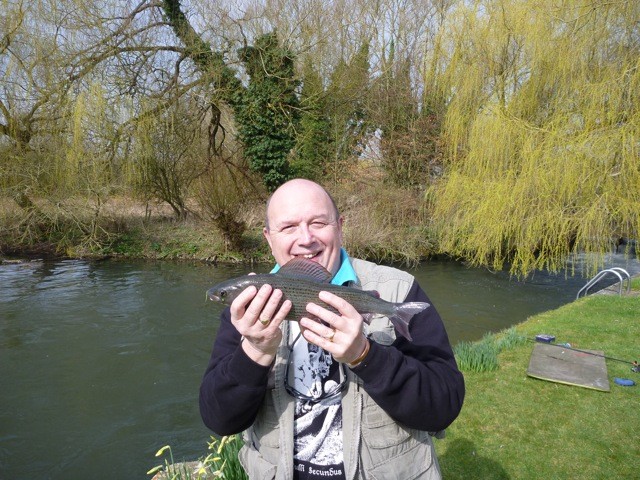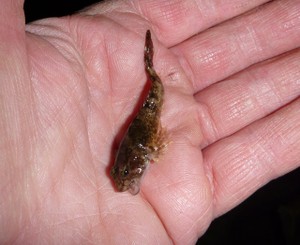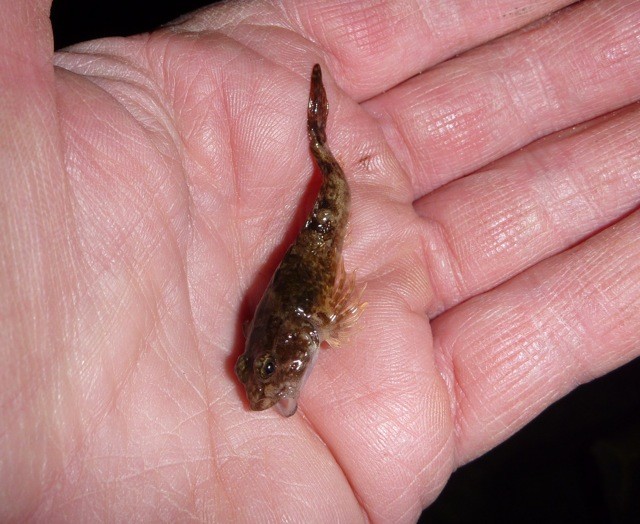 I don't know if I've mentioned it before, but there's a river in my garden. This is because I'm too lazy to move it elsewhere. It's also because I'm generally too lazy to move more than 100m for my fishing (it's surprising that I ever get out on a boat), so having it there is very convenient.
So come the 13th of March or thereabouts, my thoughts generally drift in the general direction of "There's a hatch pool just there with roach, dace and grayling in it, and Jack had a 2lb roach out of it last year and you have never caught a 2lb roach and you've hardly fished it in months you tosser! Get your bloody gear out!". This year, I was helped in my train of thought by the appearance of Scoop, who came to fish the river for a day. He caught lots of fish, including a lovely 1lb 7oz grayling, which is about as big as they get in this bit of the Hampshire Avon, but no roach.
Well, I wasn't going to be put off catching 2lb roach that easily. With a pint or two of maggots that Scoop had left me, I decided to fish through dusk, in those likely looking eddies that I'd never really bothered fishing late on, but which were just bound to hold vast shoals of huge roach. The fact that the evenings were extremely chilly and the normally eager trout (accidental by-catch and all promptly returned), grayling and dace were hardly playing, was an irrelevance. Roach feed when it's cold. I've had them on freezing cold, crystal clear January mornings.
Rather than float fish, I decided to touch leger, cos it's easier in the dark and I'm nothing if not totally ready for the easy option. So on the evening of the 13th, there I was, trickling maggots into the shallower near-side eddie and legering. And waiting. And waiting.
Now normally, if you don't get a bite within about 2 minutes in the hatch pool, you've probably forgotten to tie a hook on. But roach can be shy, and according to Tom and Sean (or Mr. and Mrs. Roach as they're known on the Test) they only EVER feed just as it's getting dark, despite all evidence to the contrary (no, you didn't just catch that roach in daylight), so I stuck it out for bloody hours, with just one solitary trout to show for my efforts.
The stars were well and truly out when I finally gave up and wound in, only to find that my efforts were not in vain. I was rewarded with a beautiful PB in the form of my first ever rod-caught miller's thumb, which had managed to almost choke itself on double maggot on a size 16. What a fantastic end to the season.
Except that it wasn't because I repeated the session on the evening of the 14th, fishing in the deepest part of the pool, where it's 14ft deep at this time of year. I had almost as much success, with another trout, but sadly no bullheads for me that night. Ah well, they'll just have to wait until June now.