Tuesday, 15 March 2011
Chew Part II
7 th March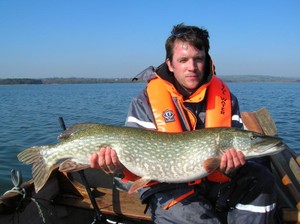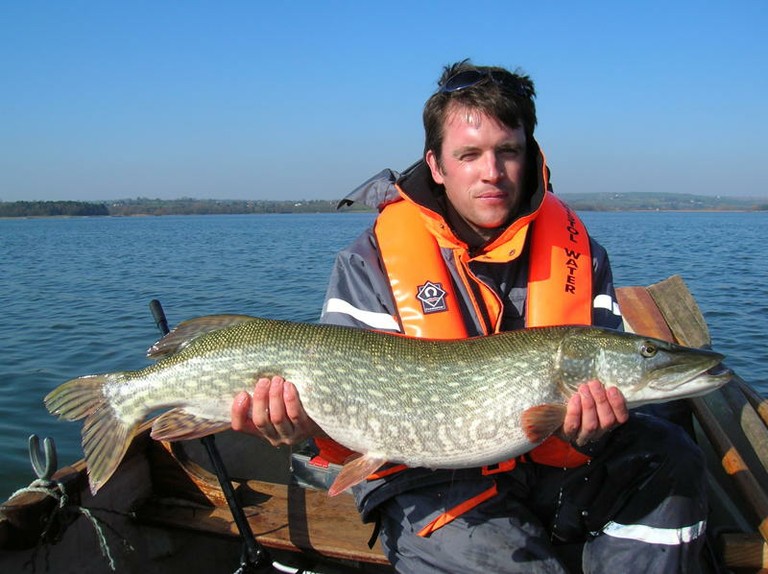 This time it was Dad and I who set off for Chew at some ongodly hour. We had at least learnt from the previous trip that the boats didn't leave the jetty until 0900 so a more leisurely start was made. However, when fishing with dad I have to build in a certain amount of faff time. Normally about an hour....
We arrived just before the cafe opened and got out to have a look at the lake. It was a glorious morning, wall-to-wall sunshine, absolutely rubbish for pike fishing, but the lake and surrounding countryside were really waking up into spring mode - there had even been a dawn chorus when we left home.. After ordering dad a bacon sandwich I went to get the tackle sorted. Everything looked in order so I went back to find dad who was tucking in to his breakfast. I thought that there would be plenty of time as there was still half an hour before the boats left.
The normal random Chew ticket and boat allocation double queue system passed without incident and I thought we still looked good to go on time. But then Dad began to faff. This involved changing various outer garments, food items (even though I had made and brought the sandwiches) and general fishing bag issues. This meant that rather than being first to leave the jetty we were infacy second to last.... Oh well I thought we won't get the areas I'd hoped for so we'll try something different.
We set off for the back of Dennys Island were a stream makes it's way into a reed lined bay. Maybe they'll be in this area looking for a place to spawn? The first area we tried was only about 4 feet deep, after tips picked up on our last visit I thought it worth a go, but after half and hour I wasn't feeling confident in the bright sunshine so suggested a move. We allowed the boat to drift to a deeper channel and after about an hour dad's float trembled and then started to move against the wind. On this lake every take is exciting and this was dad's first taste of the monsters of Chew. He wound down to the moving fish and struck - unfortunately there was little resistance and another Chew jack was swiftly in the boat. Another 30oz fish when we wanted 30lbers! We fished on in this area supposing that this size fish would make perfect food for a biggie, and a while later I had a tentative run with the float just doing something which looked a little unusual, twitching rather than rocking in the gentle wind. Again I wound down and struck into what at first felt like a more substantial weight but quickly turned into a lively jack of about 7lbs which unhooked itself in the net. Oh well, at least we were getting some action.
After a biteless half hour we moved again and tried various parts of the lake. Typically giving each area about an hour. We had moved all the way to the other end of the lake before the next action occurred. I had just revived myself after a close examination of my eyelids, and was fiddling about with my bag when my rod was suddenly pulled towards me and the baitrunner sang. No time to assess the bite with this one as is was well hooked and off on a powerful run. It was obviously a different class of fish and after a decent fight we both saw the fish at the same time and thought it looked a definate double. It was not until it was in the net that I realised that it was the proportions of a typical trout res pike - short and fat. Thoughts of a Chew twenty crossed my mind but the scales settled on 19lb 8oz, so a nice fish, not the hoped for thirty but at least we were moving in the right direction.... Just as we put the fish back it was dad's turn to have a screaming baitrunner! This fish really was different as we could see it splashing on the top about 50yards away! It didn't put up much of a resistance and was shortly in the net - it turned out to be a beautifully conditioned brown of about 4lb. Caught on an 8inch dead sardine, how am I going to tie a replica of that for the fly fishing season?
The remainder of the day passed without major incident, we had a couple of more fish around the 7lb mark but the biggie eluded us. A lovely day's weather but we found that the fishing had again been hard for the other boats with only (!!!) one thirty caught.
Our turn next year?